Earlier this month, I visited the "Titanic: The Artifact Exhibition" at Central World, Bangkok.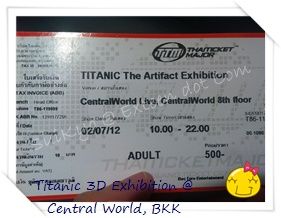 This exhibition followed the typically short life of RMS Titanic, from the day her hull was laid to the very day of tragedy. Apart of those various artifacts retrieved from under the water, there were stories of people - from those involving in her contruction to her crews and passengers, and those in the Titanic Expedition as well.

The Exhibition featured all the facts and artifacts of the Titanic. There we'd see the re-created passenger's cabins, inside corridor, promenade deck, and even the engine room. The exhibitor also created the sights and sounds, and even atmosphere to make us feel as though we were actually on board. There were also video on the sinking of the ship and showcase of the ocean's floor where the wreck lied.
And in the last room, we'd see the list of those who were lost and those who survived on the gigantic board.
Well, it's technically a very talkative exhibition. Even without the special audio tour service, there were still a number of messages lining along the walls.
What impressed me the most was the section leading to the last moment of the ship. After walking though a strangely tranquil promenade deck, the room would get dimmer and colder. Warning messages popped up along the way.
And then the door opened to that one iceburg and the fateful moment of those on board the Titanic.
And, frankly speaking, I've never seen any more emotional and stronger quote than Ida Straus's:
"We have lived together for many years. Where you go, I go."
Some useful information about this exhibition
Admission fee: THB 500 per adult and THB 350 per child (plus service charge of THB 10)

Tickets are available at ThaiTicketMajor booths or you may buy it in front of the exhibition hall.

Venue: Central World Live, 8th floor

Open daily at 10.00 AM - 10.00 PM from 9 June - 2 September 2012

Photographing is not allowed in the exhibition, but there is a photograph service at the Grand Staircase room. Picture printing is available at a booth in the gift shop area (subject to additional charges).

No defined walking course. Just keep on your right when in a rather huge area. Sometimes, you may need to walk back a bit for the exit.

The floor of Ocean Expedition room was made of transparent material.

In certain dimming area, kindly follow the sign.
Current Location:

Thailand,

Current Mood:

excited
Earlier last month, I went window-shopping at Orchard Road in Singapore.
Speaking of Orchard Road, I bet all shopaholics would've instantly recognised as it is such a renown shopping spot in Singapore. If remembered correctly, there are some 22 shopping malls lining on both sides of that very street. Even though being in the most dangerous place for the safety of my little fortune, I still managed to spend less than 50 SGD on some accessories and food/drinks - mainly due to the fact that I didn't think it would be worth paying a little less money on something that I might've found available in Bangkok.
Now some of you mightn't understand why in the world I chose to stroll along this shopping street as I didn't seem to keen on doing shopping at all. The answer lied on a certain Japanese bookstore of which its branch at Ngee Ann City Tower is considered the largest or "flagship store" in Singapore and Southeast Asia.
From MRT Orchard Station, it only took a few minutes to reach Ngee Ann City on foot. Had I not been bothered with the incessant backache, I think I could've walked there within less than 10 minutes.
Kinokuniya Books was located on the third floor of Ngee Ann City Tower. From a rough estimation, I think it takes at least 2/3 of that floor. When I visited the store, I walked in from the entrance near Isetan (an overseas branch of a Japanese department store in that building) and was welcomed with magazines section and the area of my interested field of reading.
The first impression was, of course, its enormous size! Rows and rows of books lining up neatly and well-categorised on the sea of bookcases - on the floor or on the wall. On each side of a pole, there were shelves with 'featured' topics. And on each shelf, there was a label saying the type or topic of that group of books lining up on it. I mean, although the store was indeed pretty crowded, none of the books were messed up. All books seemed to stick with those of their kind... quite miraculously.
After circling the store for an hour, I just left empty-handed!
In fact, there were a number of books that I wish I could bag them home. However, due to some luggage weight restriction, I didn't think I could buy as many as I would love to and hence just simply wished that all those books would somehow appear in the Bangkok branch(es) some time soon...
I felt I wasn't that nice to my LiveJournal account last year as I tended to use it as a place to "write off" all the worries and stresses of being surrounded and threatened by the enormours bulk of water during one of the worst flooding crisis in Thailand.

This year, I would try to be nicer and more pleasant (until) the flooding season visits us again. =P
(
My addiction...
Collapse
)


During the past month, I spent all the waking time following news on the Great Floods in Thailand. It is... very lucky of me that my District has not been affected by the massive bulk of water surrounding Bangkok for these couple of months yet. However, we still need to monitor tightly on the water level of the River Chao Phraya until the end of this month. If we could get through the period of high tide safely , we might survive the floods without actually getting wet at all.
After an extensive period of being under an utterly stressful condition from the natural disaster, I now intend to entertain myself to the maximum extent.
Having subscribed for news from Take That official site, I received an email 2 or 3 days ago about the release date of their record of the recent concert - Progress Live 2011. I am now, therefore, back to the full TT-fan-mode! It seemed that the DVD would be released in Thailand some time in the early December. Well, just tell me when - I'm all ready to grab one!
Actually, I've seen some of the concert clips on YouTube and couldn't help thinking that I must be the most passive TT fan on earth. In my humble opion, I suppose that the chance of having a TT concert in Asia (like Japan or Singapore) is ZERO and I still haven't had any heart to find some ways to watch them performing live! It seemed I must've resolved to only collect a record of their performance from the start!
The above-embedded video from TakeThatVevo @ YouTube is Take That's Eight Letters featuring footages from the Progress Live 2011 concert.
During the past couple of days, there were hardly any news of flooding water coming near my district.

Mostly, analysts viewed that the floods would tentatively go southwards to the River Chao Phraya's estuary at the Gulf of Thailand. We did have even a few pieces of good news -- like less flooding water coming from the North, the water seemed to travel slower and slower, more pumps added to each water controlling stations, etc.

However, all hopes were eliminated once I heard of water rising around an intersection on the outer skirt of my district. Although I knew that the area in that part is of lower level when compared to mine, nothing helped to relieve the worries. If water kept surging up from the drainage ditch, nothing could guarantee that my area wouldn't get affected.

Analysts didn't seem to pay much attention to my district. They normally said that we might get affected mostly from the River, not the floods. Strange indeed?


Authority always said that they had everything under control. But, why nothing seems to improve at all? I couldn't help wondering if the only thing they could do was to issue a warning.

What should we do -- waiting for a day when being warned that the floods would come in a day or two?

It seems that my district would face the floods from both the upper part and the left side.
My sister and I got back to Bangkok, primarily to work, a couple of days ago. The last weekends of October passed without any (much) serious flooding situation in my district. However, that was just a start.

I've learnt that the current and only available route to the South would be affected by the floods next week. It is highly likely that my district would be surrounded by the water and, in the worst case, would be flooded soon.

I don't know what to write anymore -- can't even string words into an organised paragraph. I'm getting panicked.

Nowhere is safe.

Because it's too stressful and too frightening to stay in Bangkok during this weekend - a time which many analyses said the high tide in the River would reach the highest record ever and thus worsened the flooding situation. My sister and I then decided to leave the capital city for our hometown, somewhere 200km away from Bangkok.

It was nice to finally return home -- after some... 4 years (?).

It was pretty thrilling to think what we would face when we returned to Bangkok. But until that day, I would hold on tightly to the positive expectation.

Whatever will be, will be.

Yesterday, the highest level of water in the River Chao Praya surpassed the highest peak of the year 1995.

Today, the River kept on making a new record.

Tomorrow, there might be a new record of a new height.

The day after tomorrow and latter dates, who knows how much higher the River would make?

My sister and I decided to get our house sealed and planned to leave Bangkok on Thursday. We would take a refuge for roughly a week.

Today, the River Chao Praya reached its highest level (higher than the record of 1995). Even if we're living inside the dikes or water barrier, nothing could guarantee the safety.

This week would be full of threats, both from the River and the huge bulk of water from Nonthaburi. Analysis said the Inner Part of Bangkok might not be suffered that much from the floods and the water level should not be higher than 1 metre.

My, I don't know if my place would be safe anymore. My district was painted blue in the flood chart, which meant we might've got some 0.5 to 1 metre high water. Damn.

However, my sister's back. At least I've got someone to rely on now.

Current Location:

Thailand,

Current Mood:

crushed